Instrumentation Laboratory Project Page
Project: Scrub Tester Project
Department: Paper and Chemical Engineering
Primary Investigator: Dr. Douglas Coffin
Purpose: An important characteristic of toweling is durability during scrubbing. In order to investigate the scrubbing performance of paper toweling a scientific tool was required to simulate the scrubbing behavior in a controlled manner. Existing commercial scrubbers were not robust enough to provide uniform and controlled motion needed to these tests. The requirements for the evaluations were as follows:

· motion was 1-dimensional, cyclic with adjustable stroke-length

· the applied pressure was adjustable yet constant during a test

· the scrubbing substrate was removable and could vary in thickness

· a sensor could be utilized to indicate failure of the toweling

· the number of scrub cycles was recorded.

The unique features of the scrubber include

· a floating sample carriage that uses deadweight for the applied pressure between the surfaces.

· a linear-rail system that ensures planar motion and minimizes any rocking of the carriage.

· A noncontact sensor that counts the number of rub-cycles competed.

· A versatile substrate holder that allows for use with glass and direct viewing of the interface during scrubbing

· A sensor based on infrared light that tracks reflected light in both a control area and the scrubbed area to indicate failure.

The developed scrubber met all the requirements and is being used in the evaluation of towel performance. The performance indicated by the scrubber can be used to understand the affect of structure and material and lead to the development of improved materials for scrubbing applications.
---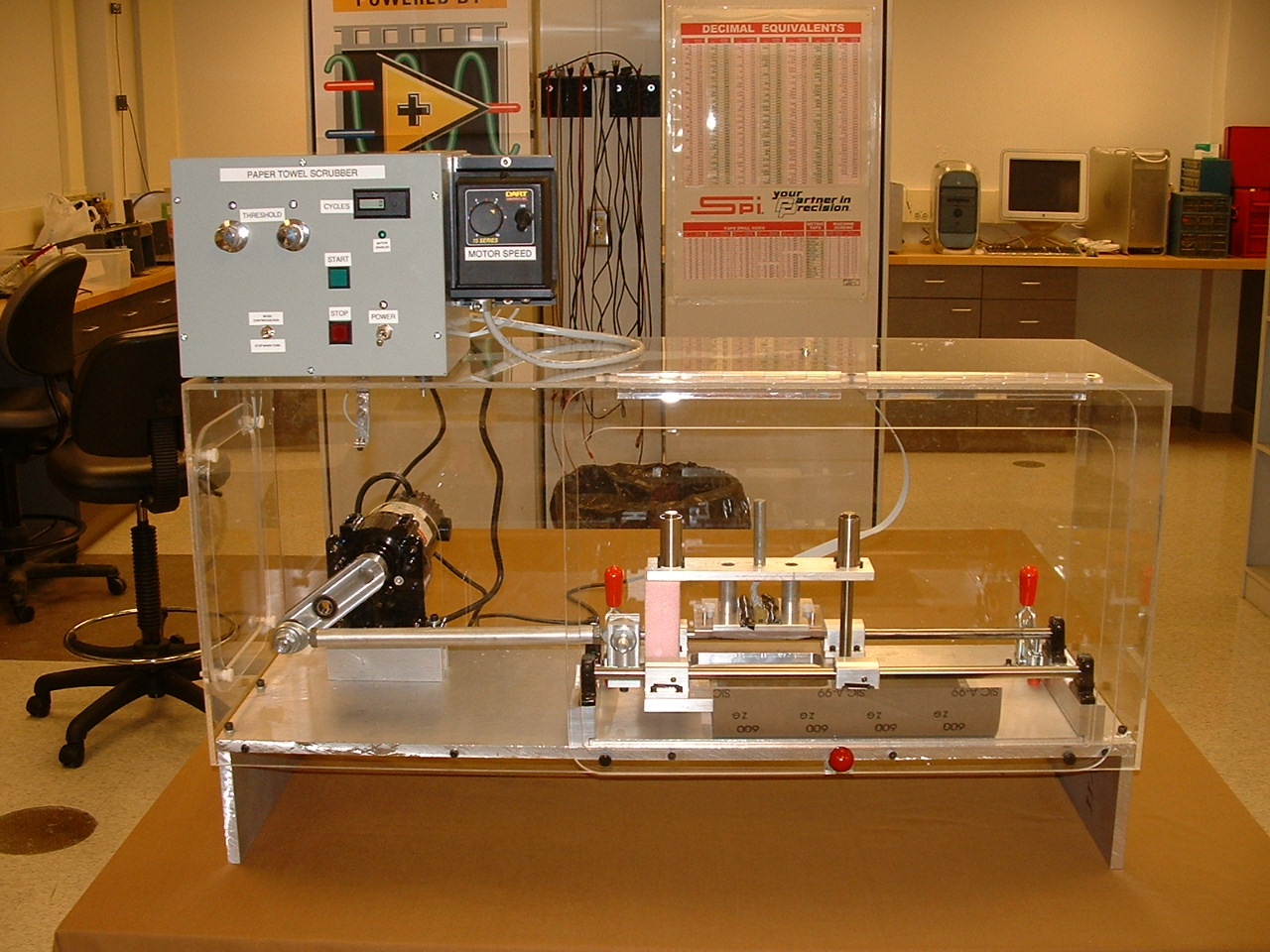 ---
IL Comment: This unit is an improved version of a scrubber that the IL designed and built earlier. This instrument includes, not only the adjustable speed motor driven scrubbing mechanism, but electronics that determine when the paper has been torn. Thresholds can be adjusted for different paper thicknesses. Different scrubbing surfaces can be used also.
Cost to researcher: $1476.52
---
Return to Project Page